Monument
Grishneshwer Temple :-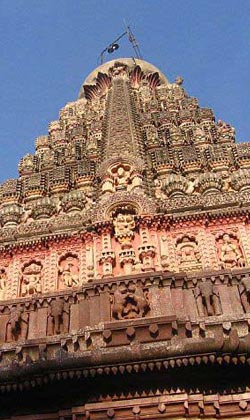 Dedicated to lord Shiva.
Grishneshwar Temple :- Jyotirling is one of the 12th Jyotirling shrines mentioned in the Shiva Purana. Grishneshwar is believed as the Last or 12th Jyotirling on the earth.
Grishneshwar Temple was restored in the 18th century by Ahilyabai Holkar, The temple is 240x185 feet tall with beautiful carvings & sculptures of many Indian Gods & Goddesses.
Built by :- Queen Aahilyabai Holkar, ½ Km from Ellora Caves.
Significance :- One of 12th Jyotirlings in India.
Her Highness Maharani Devi Ahilya Bai Sahiba :-
The Philosopher Queen Was the Queen of the Maratha ruled Malwa kingdom.
Born :- 31 May 1725
Died :- 13 August 1795
Grishneshwer Temple lies just 30 kms from Aurangabad.
Sai-baba Shirdi :-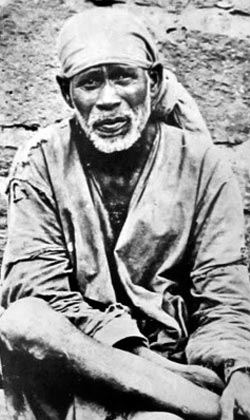 SAIBABA SABKAMALIKEK
Shirdi is 136 kms from Aurangabad.
Sai Baba preached tolerance towards all religions and the message of universal brotherhood.
Sai Baba was an Indian spiritual master was regarded by his devotees as a saint, fakir & satguru he was revered by both his Hindu & Muslim devotees Sai Baba is worshipped by people around the world.
Sai Baba's real name, birthplace & date of birth are unknown. When asked about his past, he often gave elusive responses. The name "Sai" was given to him upon his arrival at Shirdi, a town in Maharashtra.
By Mahalsapati, a local temple priest, acknowledging him as a Muslim saint and greeting him with the words 'Ya Sai!', meaning 'Welcome Sai!'. Sai or Sayi is a Persian title given to Sufi saints.
Sai Baba arrived at Shirdi when he was 16 years old,
meditating under a neem tree.
His presence attracted the villagers, there are some indications that he met with many saints and fakirs & worked as a weaver he claimed to have been with the army of Rani Lakshmibai of Jhansi during the Indian Rebellion of 1857.
Sai Baba stayed in Shirdi for 3 years, disappeared for a year & returned permanently around 1858,
which suggests a birth year of 1838 and stayed in shirdi for ever.
Aurangzeb Tomb :-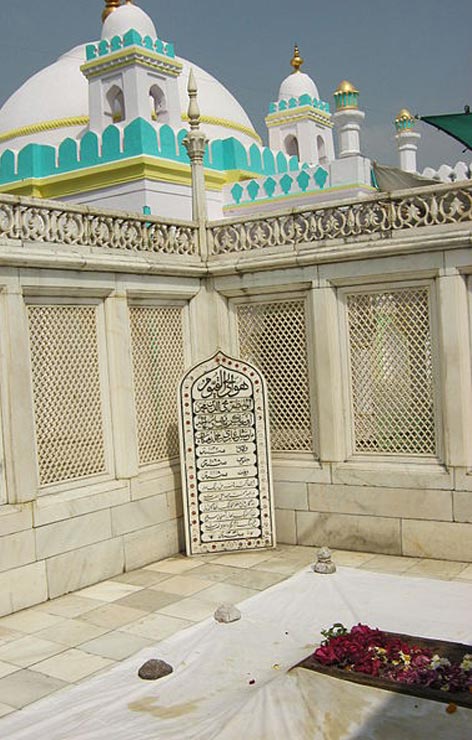 Aurangzeb was the sixth Mughal Emperor
According to his wish Aurangzeb is buried in an unmarked grave at the complex of the dargah or shrine of Sheikh Zainuddin, his "spiritual guru".
at khultabad 30 km from Aurangabad.
Aurangzeb died at Ahmednagar. His body was carried to Khuldabad by his son Azam Shah.
It is said that Aurangzeb paid for his burial place by stitching caps during his last years and that it cost only 14 rupees and 12 annas. The tomb is simple as Aurangzeb's own wishes"
The dargah also has the tomb of Aurangzeb's son Azam Shah and his wife.Aurangzeb ruled most of the Indian subcontinent for half a century until he died in 1707.
Full name :- Abul Muzaffar Muhi-ud-Din Muhammad Aurangzeb.
Commonly known as :- Aurangzeb Alamgir and by his imperial title Alamgir
Born :- November 4, 1618, Dahod—Gujrat
Died :- March 3, 1707, Ahmednagar Maharashtra (aged 88)
Grand father :- Jahangir-----Father :- Shah Jahan----Mother :- Mumtaz Mahal
Children :- Bahadur Shah I, Muhammad Azam Shah, Zeb-un-Nisa, more
Panchakki :-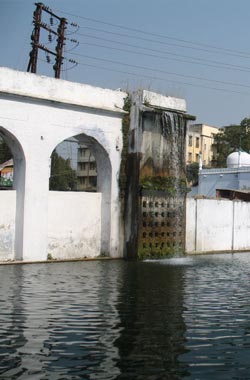 Panchakki- is the 17th century water mill,
"Artificial" waterfall that powers the flour mill.
Which used to grind grain for the pilgrims.
Monument located in Aurangabad :-
It was designed to generate energy via water brought down from a spring on a mountain.
Most of the buildings in dargah complex (including Panchakki) were erected by Turktaz Khan, On the staff of Nizam-ul-Mulk Asaf Jah in about 1695 A.D, the oblong reservoir in front of the mosque & fountains were added 20 years later by Jamil Beg Khan. Dating back to the 17th century.