Monument
Ajanta Caves :-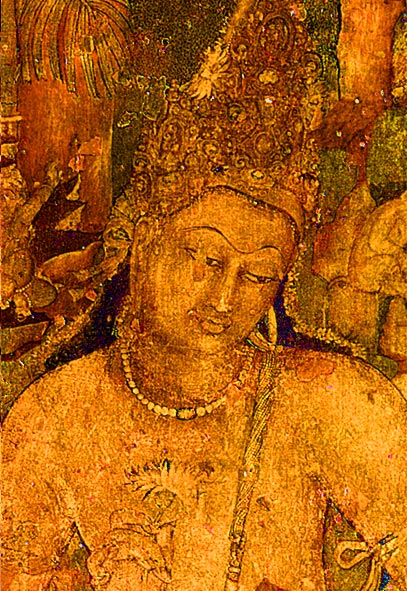 UNESCO WORLD HERITAGE SITE
110 Km from Aurangabad
30 rocks cut Buddhist caves with world famous painting.
DISCOVERY OF AJANTA :- As Ajanta caves was carved in 2nd century BC to about 480 or 650 CE. No one was care taker to the place, accidentally discovered in 1819 by a British officer JOHN SMITH.
JOHN SMITH :- British army officer on 28th April 1819 discovered Cave No.10 while hunting the tiger, Captain Smith entered the cave scratched his name, signature on the wall date, April 1819
EXCAVATION OF CAVES- NIZAMS & GULAM YAZDANI :-
Ajanta was the territory of Nizams of Hyderabad, rather than British India, Ghulam Yazdani founded the archaeology department in 1914 & ran it for over 30 years conserving & researching the site.
Ellora Caves :-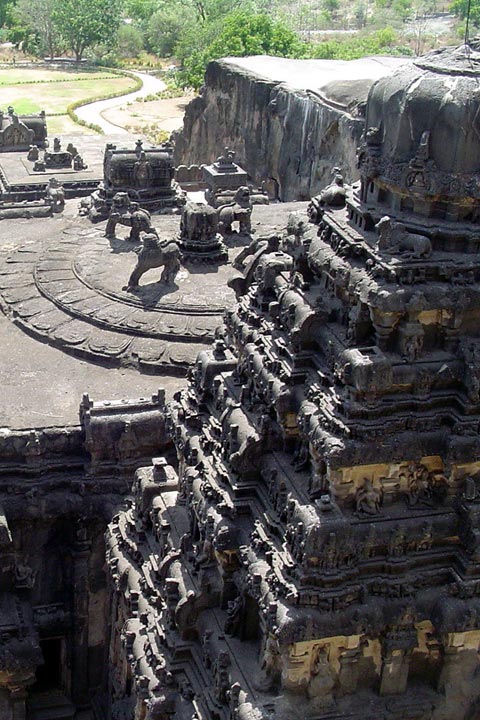 Ellora Caves consist of three mix religion
Buddhism /Hinduism /Jainism
| | |
| --- | --- |
| Buddhist caves | 1 to 12 at the southern end. |
| Hindu caves | 13 to 29 |
| Jain caves | 30 to 34 at the northern end. |
Kailash Temple :- At ELLORA, 34 caves temples were carved out of the hillside with hand tools. Only 12 of these 34 caves in the centre are the most impressive. The massive Kailash Temple (cave 16) is nearly one a half time taller than the Parthenon and occupies almost twice its area. It is believed that it was constructed by excavating approx. 200,000 tons of rock and is possible the world's largest monolithic structure. Representing Shiva's Himalayan home, the temple is exquisitely sculpted with scenes from Hindus mythology, each pulsing with drama, energy and passion.
Kailash Temple at cave 16, were a big Shiva-linga (form of Lord Shiva) is worshiped. It is the biggest building carved in a stone in the whole world.
Beautiful sculptures from Ramayana and Mahabharata are carved on the walls of this cave temple.
Architecture Ellora :- It is believed that work on the Kailasha temple was begun in the mid-8th century and under the direction of King Krishna I (757-775) of the Rashtrakuta dynasty, the rulers of the western Deccan area, one of the India's greatest architectural treasures.
Ellora lies just 30 kms from Aurangabad.
Daulatabad Fort :-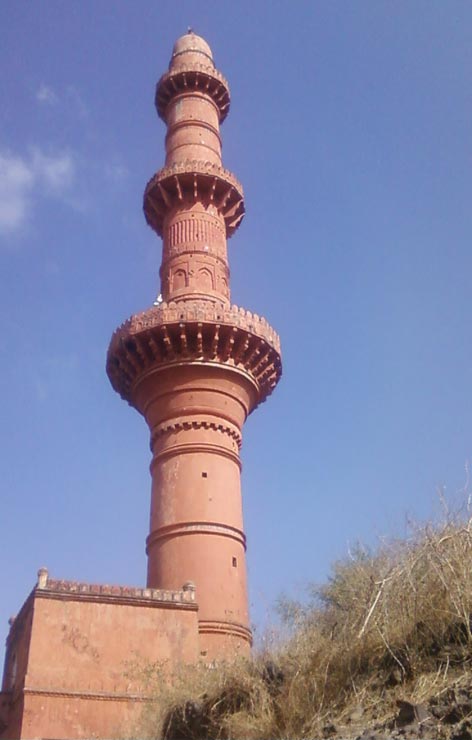 DAULATABAD FORT THE UNCONQUERABLE ONE
Daulatabad fort is a 14th century fort
17 km from Aurangabad.
Old Name :- Deogiri constructed by Ramdev rai yadav it took 150 years to build and was completed by Raja Ram Bhilamrai in 1187.
DAULATABAD was capital of India for a short period during the regime of Sultan Mohammad-Bin-Tughluq(1325-1351),
and Tughlaq moved entire population from Delhi to Daultabad.
Rulers of the Daulatabad fort :-Raja Ram Dev Rai yadavRaja Bhillamraj yadavAllauddin khiljiSultan Mubarak (Son of Allauddin khilji)Mohammad bin TuglaqAlauddin-Hasan-Bahaman shah-Malikahmed Nizamul MulkMuruza Nizam shah IIIMir QamruddinMarathas ruleAsif jah I
Seventh Nizam Mir Osman ali KhanAsif jah VII
Bibi-ka-Maqbara :-
Bibi-ka-Maqbara or Queen's Tomb Aurangabad.
Situated in Aurangabad
Build in :- 1661 AD
Cost of construction :- 6,6,203-7/Rs six lakh, sixty eight thousand, two hundred, and three, & seven anas.
Architect :- Ata ulla Engineer :- Hanspatrai
Build by :- Prince Azam shah son of (Emperor Aurangzeb)
In the loving memory of his mother Dilras banu. Dilras Banu Begum was born princess of Safavid dynasty, the ruling dynasty of Iran (Persia) She was the daughter of Mirza Badi-uz-Zaman Safavi
Rabia-ul-Daurani alias Dilras banu Begum :-
Born :- 1622 Agra fort
Married :- Dilras married Prince Muhi-ud-Din later known as
"Aurangzeb Alamgir" On 8 May 1637 at Agra
Died :- 8 October, 1657 (aged 35) Aurangabad
Bibi - Ka - Maqbara only monument in the world built in the memory for mother
Lonar crater :-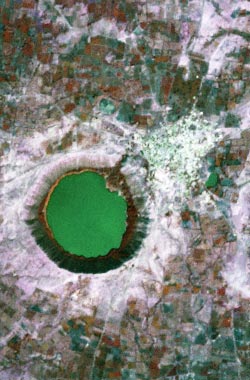 Impact crater :- caused by two celestial bodies impacting each other, such as a meteorite hitting a planet
Impact craters :- which gets its distinctive appearance from millions of encounters of asteroids over the centuries. But Earth is a different story, with only 128 impact craters recorded in the most recent count.
Lonar crater is important meteorological crater in India.
Crater formed in basalt rock 35 to 50 thousand ago. Initially people called volcanic crater. but in 1883 J. E. Alexander declared as impact crater. this crater is just like Arizona crater. except water in lonar crater.
lonar crater situated in buldana district at lonar village. crater is 1.83 km in diameter and average 170m in depth and age is about 50000 yrs
160 km from Aurangabad.